Campus Art Gallery Information
Congratulations MCC Art Students!
2017 Skyway Juried Art Competition
Jamie Cabanas, Panda Delight, Oil on canvas
Haley Creager, Shielded, Oil on canvas
Deanne Ferguson, Damnit Gary!, Ceramic, steel, wood , aluminum
Lindsey Keehn, Framed Efflorescence, Silver Gelatin Print (Award)
Morgaine Polit, After Party, Archival Inkjet Print
Jaclyn Walter, Untitled, Graphite
The Skyway Art Competition/Exhibit is hosted this year by Prairie State College and runs from March 6 through April 8, 2017 at PSC in the Christopher Art Gallery. A reception for the artists will be on Saturday, April 8 from 11 a.m. to 1 p.m. with the awards presentation at noon.
---
MCC Student Art Exhibit 2017
MCC Student Art Exhibit, May 1 - July 31, 2017, Gallery One and Gallery Two
Congratulations Art Students
First Place - James Vitullo, Four Feet Under
Second Place - Kathie Jagman, Keith
Third Place - Patricia Vollkommer, Off Kilter
Merit Award
Hope Czuba, Truth
Taylor Jensen, Yellow Footprints
Michelle Mathis, Interfuse
Socorro Medina, Today and Tomorrow
Kayti Sault, Feast for the Protection of the Ootheca
Purchase Award
Haley Creager, Shadowed
Lou Jensen, Self-Portrait with Mannequins
Cristina Lichay, Omakase
Rachel Patterson, Coming to an End
Morgaine Polit, After Party (diptych)
Dominique Sanders, Ebullient Turmoil
James Vitullo, Four Feet Under
Jessica Wyman, Trophy Case
Ryan Long Award
Amy Widhalm
Jessica Wyman
The purpose of this exhibition is to showcase some of the finest works of visual art by McHenry County College students. Awards will be given to those works demonstrating exceptional merit, as selected by the jurors.
Questions? Contact Sandra Lang, Gallery Curator, at (815) 455-8785 or at slang@mchenry.edu.
---
McHenry County College has four galleries on campus with an average of thirty exhibitions per year: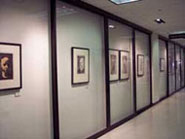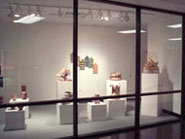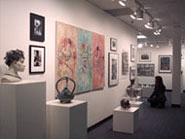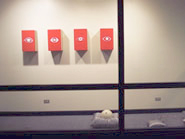 Gallery exhibitions include works from emerging and established artists from local, regional and national locales. The galleries feature diverse solo and group exhibitions with the intent of exposing students and the community to the wide range of media, styles, and content utilized in contemporary art practice.
Visiting artists often present lectures and workshops in conjunction with exhibitions. The galleries are also used for exhibits of student work and specific course-related installations and projects. Please check the gallery exhibit schedule for updates. All galleries are free and open to the public.
In addition to rotating gallery exhibitions, there are numerous selections of permanent and loaned works displayed on campus.
The Permanent Art Collection is displayed throughout the main campus and off-site locations.
The Portrait in Print Collection is on permanent exhibition in the MCC library.
Large-scale sculpture is located in several sites on the MCC campus.