McHenry County College and U of I Extension Master Gardeners in McHenry County present Garden Walk
Saturday, July 8, 2017 from 9 a.m. to 4 p.m.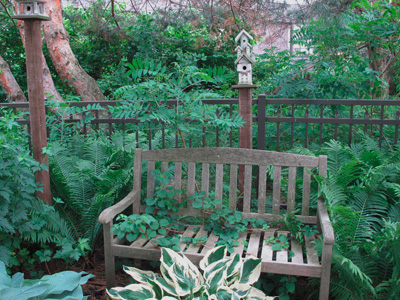 The McHenry County Master Gardeners' Demonstration Garden at MCC
Garden Walk 2017 offers the sometimes small but always sweet gardens of bungalows, nestling in the up and down streets of the Crystal Lake Public Library neighborhood much as children nestle near one another to hear a bed-time story. Arbors, window boxes, trellises, and perennials nodding in the breeze give way to paths leading to secret areas. The bunglows themselves evoke local history, and the presence of a bench in the garden is not a coincidence—it's an invitation to sit and, perhaps, to read. For beautiful contrast, a large garden dotted by koi ponds and filled with rows of vegetables, fruit and nut trees, and stunning perennials and annuals are on the roster. Come visit. Sit and rest, and read.
Tour the McHenry County Master Gardeners' Demonstration Garden at MCC.

Ask Master Gardeners your specific gardening questions.

Enjoy private gardens at your own pace on a self-guided tour.
Ticket Information
Tickets may be purchased starting May 15. NO REFUNDS.
No ticket sales available from Friday, June 30 through Friday, July 7.
All tickets are picked up at MCC at the Master Gardener's Demonstration Garden, just off parking lot C. No tickets will be mailed.
Tickets are available the day of the walk at the Master Gardeners' Demonstration Garden at MCC for $17.
Your ticket is required to enter each garden. Presenting your ticket at the garden also enters your name into a door prize raffle. All gardens will be open for viewing from 9 a.m. to 4 p.m.
University of Illinois Extension provides equal opportunities in programs and employment. If you need a reasonable accommodation to participate in this program, please contact the McHenry County Extension office.
Rain or shine – please no pets