Music
The Associate in Fine Arts (AFA) - Music Option is a transfer degree program designed for students planning to complete a baccalaureate degree at a four-year college or university.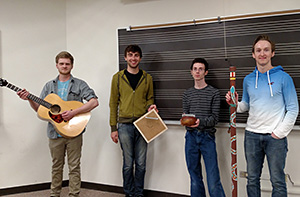 MCC students in Pat Gaughan's Non-Western music class constructed musical instruments for a class project. Pictured are, from left, Tim Gallois, guitar; Jake Drzewiecki, mbiras, Stephen Carlus, mbiras and Josh McKenzie, didgeridoo.
Join concert band or chorus. We're interested in music majors and non-music majors alike. No auditions necessary.
Learn about our talented faculty members, their professional training and education.
Did you know MCC offers one-on-one music lessons?
Learn to play—or improve your skills on—guitar, piano, saxophone and many other instruments. Find out more and register today!