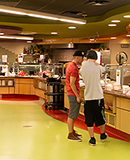 Students experiencing food insecurity because of financial hardship due to COVID-19 can request one COVID Relief Cafe Card each semester. COVID Relief Cafe cards provide the awardee with an average of two meals a week while on campus for classes. Students who qualify for COVID Relief Cafe cards may also obtain fresh produce during Market Mondays. 
Students can now apply for COVID Relief Cafe Cards for the Spring 2023 Semester.
Request a COVID Relief Cafe Card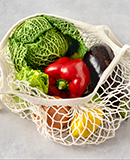 The MCC Student Farm will host Market Monday Produce Stand every Monday afternoon in the cafeteria from late July to October. Students who qualify for a COVID Relief Cafe Card can enjoy fresh produce from our on-campus farm grown by our Horticulture and Agriculture students. Varieties change each week but there will be heirloom tomatoes, specialty peppers, lettuce, squash, beans, cabbage, eggplant, herbs, and fresh flowers to choose from. Throughout the week, produce is restocked in the cafeteria fridge, where vouchers can be left in the cash box.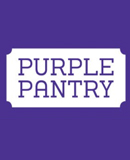 The Purple Pantry provides café coupons for a meal on campus. To request a Purple Pantry coupon, please visit one of these campus locations, the Co/Labs: A218, B166, E108, The Student Success Center: A247, Academic Advising: A257, A252, or Campus Safety: B176.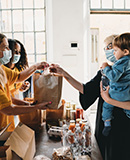 MCC also connects students with community resources like the Crystal Lake Food Pantry. MCC's partnership with the Crystal Lake Food Pantry allows any MCC student in need to pick up fresh meat, eggs, produce, and nonperishable and personal care items at their downtown location. 
See McHenry County food pantry and SNAP information