Childcare at the Children's Learning Center
What to Expect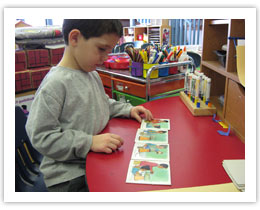 We offer students, employees, and fitness center members at MCC childcare for their children.
Children between the ages of fifteen months and three years meet in the Green Room.
Children between the ages of three and five years meet in the Red Room. Children who will be turning three during the semester will be started in the Red Room in order to avoid the transition between classrooms.
Registration is first-come, first-served. Register early – spaces fill up quickly!
Additional Requirements
Potty Training
Children in the Green Room do not have to be potty trained. Diapers are checked and changed every two hours, or as needed more frequently. Once you have started the potty training process at home, please discuss your strategies with the teachers so that the process can be consistent.
Personal Items
Every child will need diapers, wipes and a change of clothing. For potty training children, we recommend several changes of clothing. If your child will be here for rest time, you are welcome to bring a favorite blanket or nap toy, although it is not required.
Daily Schedule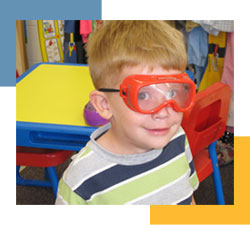 The children spend the majority of the day in "centers" where they choose the area and activities that they would like to participate in. They can build in the block area, participate in an art project, or choose another area of interest. Children are able to move freely between centers and can work at their own pace on activities. Here is a detailed breakdown of daily activities.
The children go outside several times throughout the day year-round, as long as it is not raining and it is between 15 and 96 degrees (including wind chill or heat index). Always dress your child appropriately for the weather.
Food
We provide two snacks and a lunch daily. Every child should have allergy information listed on their emergency card so that substitutions can be made where necessary. Food cannot be brought from home unless there is an un-substitutable allergy documented by your child's doctor. No need to bring a sippy cup, we have those available.
Rest Time
We schedule a rest time after lunch. Each resting child will be provided with a cot, sheet and blanket. Children that do not nap will be given alternate activities during this time. Please discuss your nap wishes with your child's teachers. We will not force children to nap, but can encourage napping with those children who are a little more hesitant if that is your preference. Children that fall asleep before or after our scheduled rest time will be given space to rest comfortably and safely within the classroom.
Childcare Pricing
Room
Age
Registration Fee
(nonrefundable)
Hourly Rate
Extra Hours Fees
Drop-In Fees
per hour
Green
15 months to 3 years
$25 per semester
$5.75 MCC students
$6.25 for MCC students

$7.75
$6.75 for MCC employees and community members
$7.25 for MCC employees and Community members
Red Room
2.5 to 6 years
Fall $25
Spring $30 (includes vision/hearing test fee)
$5.50 MCC students
$6 for MCC students

$7.50
$6.50 for MCC employees and community members
$7 for MCC employees and Community members
Extra Hour Fees

Should children who are already enrolled and regularly attend need an extra hour of care occasionally, extra hours are available.

Drop-In Fees

With 24-hours advance notice, children who are enrolled but do not attend on a scheduled basis may be dropped off.
All arrival and departure is at ten minutes to the hour.
Please note: There is an additional fee of $3 for lunch if your child is contracted between noon and 1 p.m.
We charge for your contracted hours, regardless of attendance, because we are saving that space for your child. We mail bills out every four weeks.
You can pay by
cash, check, or credit card in the Office of Registration, A258;
credit card over the phone by calling registration at (815) 455-8588;
Child Care Financial Assistance and Payroll Deductions
If you are a student who receives financial aid, you may be able to use available funds towards your childcare.  For more information, contact Financial Aid directly at (815) 455-8761 or see www.mchenry.edu/financialaid.
We accept Child Care Financial Assistance through 4-C (Community Coordinated Child Care). Contact them directly at (800) 848-8727, extension 225. Please note that 4-C does not always cover the entire amount we charge,  therefore the parent/ guardian is responsible for the difference in addition to monthly co-pays and lunches, if applicable.
MCC employees can arrange payroll deductions through Mary Lutz in CLC office.