Preschool Programs at the Children's Learning Center
Our Programs
We offer a three-year-old, a four-year-old, and a five-year-old preschool session for students and employees at McHenry County College, as well as community members. Preschool children meet in our Blue Room.
Registration fee is $55.
Preschool Schedule and Pricing

| Age | Days | Time | Cost per Month | Daily Schedule |
| --- | --- | --- | --- | --- |
| Three-Year-Olds (Three by September 1, current year) | Tuesday and Thursday | 9 a.m. to noon | $130 | Daily Schedule |
| Four-Year-Olds (Four by September 1, current year) | Monday, Wednesday, and Friday | 9 a.m. to noon | $175 | Daily Schedule |
| Five-Year Olds (Turning five between September 1 and January 1) | Monday through Thursday | 1 to 3:30 p.m. | $205 | Daily Schedule |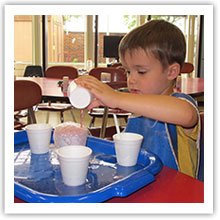 Requirements
Age Requirements
Three- and four-year old children should be three or four by September 1 of the year that they are starting preschool.
Five-year olds should be turning five by December 31 of the year that they are starting preschool.
Potty Training
Children in the preschool program must be potty trained prior to starting. The classroom is not equipped for diaper changing, although we do understand that children sometimes have accidents. In these instances, the teachers will help children to change their clothes, encouraging independence as much as possible.
Personal Items
Every child will need at least one change of clothing. Additionally, on days specified on the monthly calendar, children will have the opportunity to bring in items for Show and Tell to share with the class.
Daily Schedule
The children spend the majority of the day in "centers" where they choose the area and activities that they would like to participate in. They can build in the block area, participate in an art project, or choose another area of interest. Children are able to move freely between centers and can work at their own pace on activities. Here is a detailed breakdown of daily activities.
The children go outside several times throughout the day year-round, as long as it is not raining and it is between 15 and 96 degrees (including wind chill or heat index). Always dress your child appropriately for the weather. On days that we cannot go outside, we will participate in large motor activities either in the classroom or in the gym on campus.
Food
We provide a snack during each preschool session. Every child should have allergy information listed on their emergency card so that substitutions can be made where necessary. Food cannot be brought from home unless there is an un-substitutable allergy documented by your child's doctor.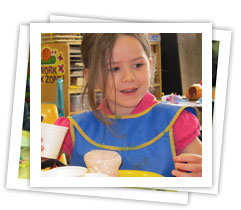 Pricing and Payment
See Preschool Schedule for pricing information.
You can pay by
cash, check, or credit card in the Office of Registration, A258;
credit card over the phone by calling registration at (815) 455-8588;
Child Care Financial Assistance and Payroll Deductions
If you are a student who receives financial aid, you may be able to use available funds towards your childcare.  For more information, please contact Financial Aid directly at (815) 455-8761 or www.mchenry.edu/financialaid.
We accept Child Care Financial Assistance through 4-C (Community Coordinated Child Care). Contact them directly at (800) 848-8727, extension 225. Please note that 4-C does not always cover the entire amount we charge, therefore the parent/ guardian is responsible for the difference in addition to monthly co-pays and lunches, if applicable.
MCC employees can arrange payroll deductions through Mary Lutz in the CLC office.