Preschool Programs at the Children's Learning Center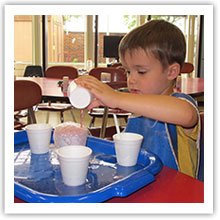 We offer a three-year-old, a four-year-old, and a five-year-old preschool session for students and employees at McHenry County College, as well as community members. Preschool children meet in our Blue Room.
Three- and four-year-old children should be three or four by September 1 of the year that they are starting preschool.
Five-year-olds should be turning five by December 31 of the year that they are starting preschool.
Complete a Blue Room application
Registration fee is $55.
Preschool Schedule and Pricing

| Age | Days | Time | Cost per Month |
| --- | --- | --- | --- |
| Three-Year-Olds (Three by September 1, current year) | Tuesday and Thursday | 9 a.m. to noon | $130 |
| Four-Year-Olds (Four by September 1, current year) | Monday, Wednesday, and Friday | 9 a.m. to noon | $175 |
| Five-Year-Olds (Turning five between September 1 and January 1) | Monday through Thursday | 1 to 3:30 p.m. | $205 |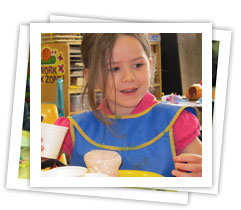 You can pay by
cash, check, or credit card in the Office of Registration, A258
credit card over the phone by calling registration at (815) 455-8588
Not sure how much you owe or have billing questions? Email CLCbilling@mchenry.edu
Child Care Financial Assistance and Payroll Deductions
If you are a student who receives financial aid, you may be able to use available funds towards your childcare.  For more information, please contact Financial Aid directly at (815) 455-8761 or www.mchenry.edu/financialaid.
We accept Child Care Financial Assistance through 4-C (Community Coordinated Child Care). Contact them directly at (800) 848-8727, extension 225. Please note that 4-C does not always cover the entire amount we charge, therefore the parent/ guardian is responsible for the difference in addition to monthly co-pays and lunches, if applicable.
MCC employees can arrange payroll deductions through Mary Lutz in the Business office.