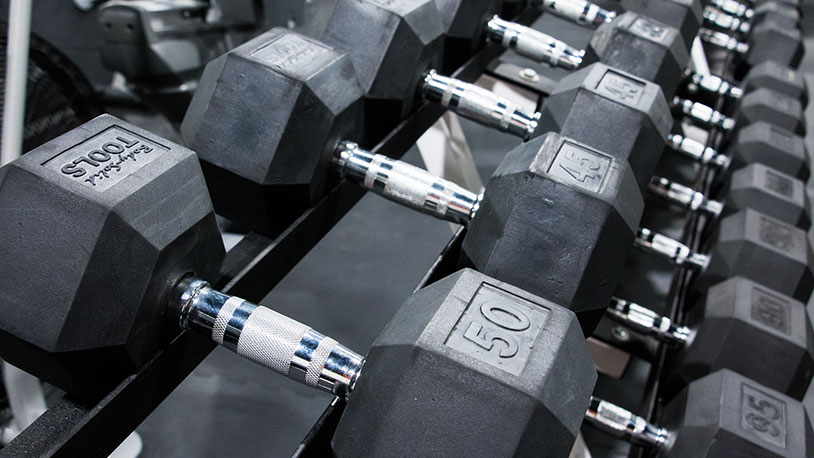 Fitness Center Policies
All members are required to adhere to the Fitness Center policies. Each participant has a right to exercise in an unobstructed environment. A courteous and cooperative attitude will have a positive affect on productivity.
No cell phone conversations in the exercise area.
Children under 14 years old are not permitted in the Fitness Center, including the reception area.
Maximum safe exercise capacity is 12 people. Entrance will be prohibited when the Fitness Center is at capacity.
Eating or drinking (except for water) in the workout area is prohibited.
Members must wear appropriate attire at all times. Proper clothing is considered apparel that covers the upper torso, upper legs and feet.
No open toed shoes, i.e., sandals.
Profanity is not allowed.
Disrupting or interfering with the workout of another person is not allowed.
Members must wipe-off all equipment and replace free weights to proper storage areas.
Compliance with free weights includes the following:

Collars are to be used at all times to secure weights on bars.
Weight plates are not to be placed on floor or leaned against equipment.
After utilizing equipment, strip bars and return plates and dumbbells to proper storage areas.
Members must use safety bars when using the power racks for bench press, incline press, military press, decline press, squats, or any other exercise an instructor deems necessary. Set the safety bars about 1 inch lower than your lowest movement with the bar.
Dumbbells cannot be dropped on floor for any reason.

Only Fitness Center instructors are allowed to provide instruction on exercise technique or equipment preparation and adjustments. Personal Training of any type is not allowed.
All participants are to comply with Fitness Center instructor's directives regarding enforcement of policies related to safety, programming, exercise techniques and policies.
The Fitness Center is not responsible for personal items. 
Fitness Center participants should report all equipment malfunctions, personal injuries and specific concerns immediately to the instructor in charge.
Failure to adhere to any of these policies may result in the immediate and/or permanent ejection of anyone in the Fitness Center violating any of these polices, with suspension of all rights, including a refund.
If at any time you have questions regarding Fitness Center policy or need any assistance, please contact the instructor on duty.
---
Important: Read the "Before You Begin" section before signing up for a membership