MCC's Annual Pottery Workshop
Schedule of Events
Date: October 21 and 22 from 10 a.m. to 4:30 p.m.
Fee: $60 for both days, includes lunch
Location: MCC Pottery Studio
Create with Us
Please join us for "Altered and Decorated" this two-day hands-on workshop with Reneé Schwaller. Participants will learn Reneé's unique approach to forming and altering clay, surface decoration, and glaze application. Reneé will demonstrate how she manipulates clay by taking simple extruded and wheel-thrown shapes and forming them into functional and sculptural objects. Renee will also show how she applies detailed imagery using underglazes, carving tools, slips, ceramic transfers, and glazes. Workshop participants will have the opportunity to work alongside Renee and explore these newly learned techniques using extruded forms.
About the Artist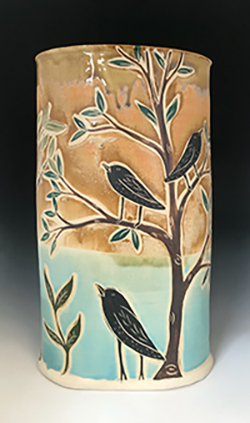 Inspired by the natural beauty in Door County Wisconsin, Reneé Schwaller creates and applies images of trees, animals, flowers, and whatever she sees outside her studio window in Egg Harbor, Wisconsin onto her ceramic creations. Reneé has owned and operated Off the Wheel Pottery, an art gallery featuring her work, along with 30 other artists, in a 130-year-old timber-framed barn and granary for 23 years. Her work mostly consists of functional pottery and small sculptural work which she throws on the potter's wheel and hand builds. Her surfaces are highly decorated with playful colorful underglaze paintings and black and white sgraffito carvings. She also uses underglaze transfer papers, slip trailing and applied various textures.
---
Each fall semester, MCC's art department partners with the Clayworkers' Guild of Illinois and the MCC Clay Club to bring in award-winning ceramic artists to lead a hands-on workshop. We charge a minimal fee for each workshop and open the workshop to the public.
Learn more about our ceramics program.