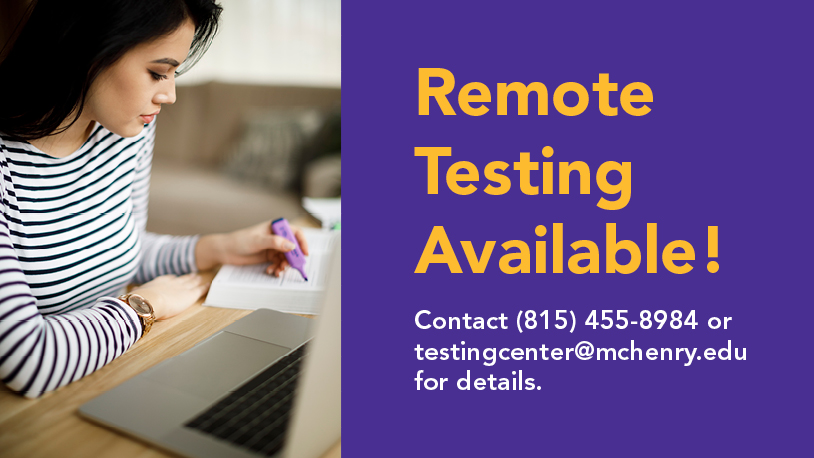 Testing Center
The MCC Testing Center proctors tests for: GED, make-up exams, placements, proficiency, CLEP, correspondence, and more.
Review specific instructions by exam type »
Except for make-ups, many of our other tests require appointments, so be sure to call ahead at (815) 455-8984.
Note: We require photo identification for all exams. Exams need to be completed five minutes prior to the Center's closing time.
Important information you should know before using the Testing Center
Apply to MCC before scheduling tests

You need to apply to MCC, pay the required non-refundable $15 application fee and allow two business days for your student ID number to be assigned before you can take a placement test at MCC.

Comply with the Testing Center Regulations

Current photo ID is required by students
Entrance to the Testing Center is limited to MCC employees and students taking tests only per federal regulations

Family members of students are not permitted in the Testing Center

Tests must be started at least 30 minutes prior to closing

We must allow for instructor's minimum time requirements.

Some tests require appointments and/or fees
In the testing rooms:

All personal items must be stowed
Electronic devices must be powered down and out of sight
No talking is permitted
Only Testing Center calculators are allowed

MCC's Student Code of Conduct applies in the Testing Center

Thank you for your cooperation.