District 200 and MCC Dual Degree Program Benefits
Cost-friendly
Rigorous, but very manageable
Provides a cohort of students who can support and collaborate
Participating students can still be involved in all high school activities, including fine arts, athletics, and other electives
Allows participants to enjoy the high school experience while getting comfortable with college coursework at the same time
---
Comparable costs to attain an Associate of Arts degree after high school at MCC are $7,695 including the costs of tuition and fees. Based on tuition and fees and does not include room and board. Calculated on 15 credit hours per semester for two years (four semesters).
Frequently asked questions about the D200/MCC Dual Degree Program
Preguntas frecuentes sobre el Programa de Doble Titulación D200/MCC
Contact District 200
For more information, visit www.woodstockschools.org/dualdegree or contact D200 school counseling at Woodstock High School (815) 206-2252 or Woodstock North High School (815) 334-2124.
With special thanks to Jesus Sanchez, Woodstock North High School graduate, class of 2018, for designing the dual degree logo.

The District 50 DUO Program
The DUO Program is an early college program that was created through a collaborative partnership between McHenry County College (MCC) and Harvard Community Unit School District 50. The program provides academically-motivated students enrolled in District 50 an opportunity to earn a high school diploma and Associate of Arts degree simultaneously. During their four years of school, students will take a combination of Dual Credit courses offered through District 50 at Harvard High School, and MCC courses offered at the McHenry County College campus.
Student Application Process
The ideal candidate for the DUO Program is a student who has consistently demonstrated a strong commitment to their academics. In order to qualify for some of the course work, students may need to take placement tests in English and Math. Due to the nature of those placement tests, it is recommended that students be enrolled in Algebra 2, or show a strong proficiency in Geometry, during their sophomore year. If you have questions about whether or not this is a good fit, students and families are encouraged to meet with their high school counselor.
The DUO Program process: Please be sure to fill out all of the following forms. If all forms are not completed, the application will be considered incomplete. The application window will be open from November 1 to January 15 for the Class of 2024.
Attend Informational Meeting - The application period for 2021-22 has closed.
Application Process - A completed application would include the following documents. All must be submitted for your application to be considered complete.

Student Application
Student Essay Questions
Student Recommendation Process

Counselors and Administrators review applications
Notification of who was accepted into the program
Orientation for the Dual Degree participants and families
To learn more about The DUO Program with MCC, visit www.cusd50.org/duo

The District 158 Dual Degree Program
How Do I get Started?
District 158 Application Information
District 158 and MCC Dual Degree Program Benefits
Expedite an advanced degree and allow exploration in further areas in postsecondary education
Gain experience in college-level coursework, which will help make the transition to a four-year college or university much easier
Get personalized, hands-on support from both high school counselors and MCC advisors
Get started in your career earlier
Program Cost
Students will be responsible for one-third of the cost of any class taken through MCC. The overall cost of the program is dependent upon the number of courses students are enrolled in as Dual Degree participants. Books, fees, and supplies for MCC courses will be the responsibility of the student.
Example:
Total tuition and fees estimated cost per credit hour: $140.00
Student cost = $46.60 per credit hour
Students who qualify for free and reduced lunch status will have the cost of tuition waived, and District 158 will cover the cost of books and fees. Transportation to and from courses at MCC will be made available to all students who require it.
FAQ's
Interested in other dual-credit opportunities with MCC? See www.mchenry.edu/dualcredit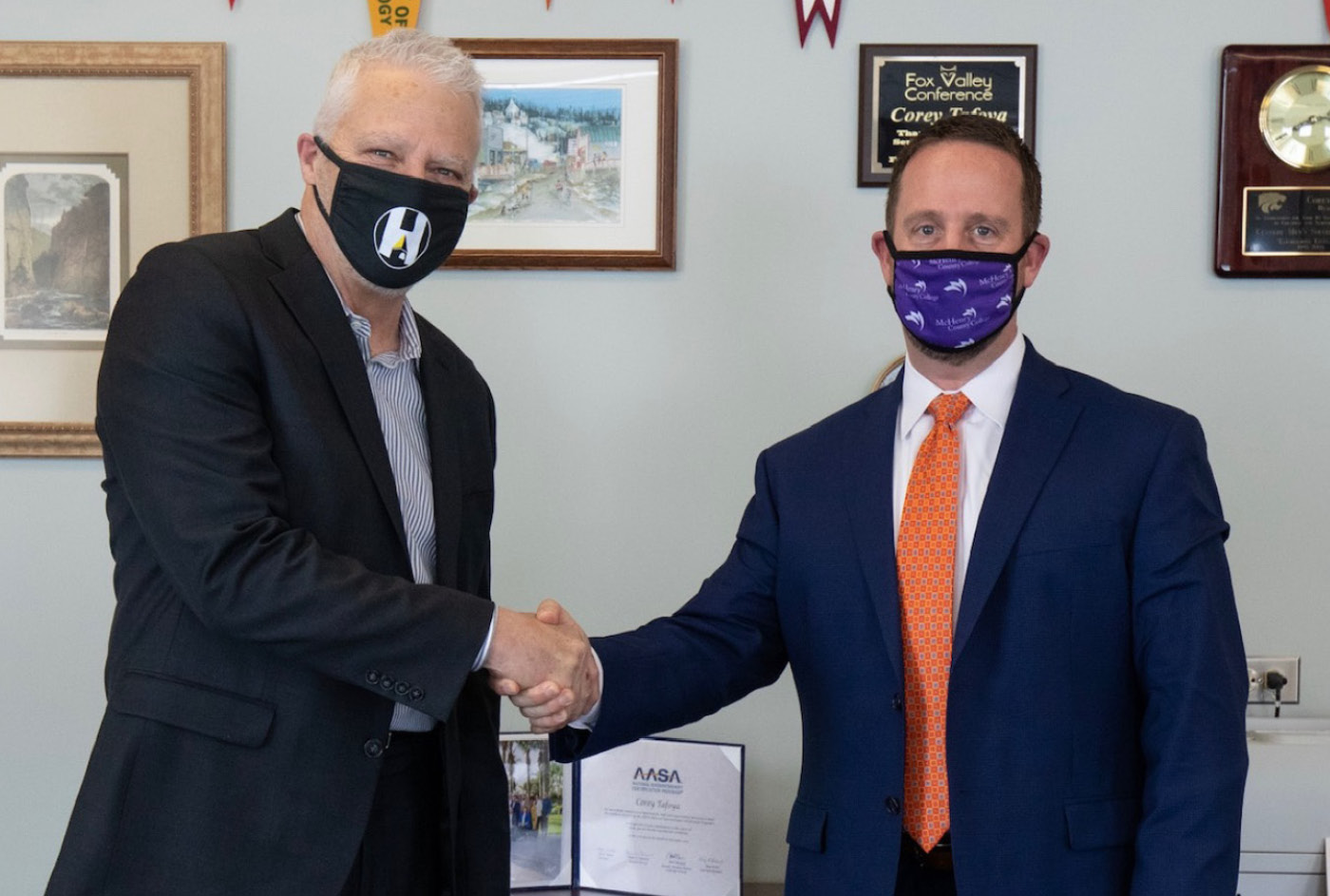 The DUO program, a collaboration launched earlier this year between MCC and Harvard Community Unit School District 50, gives students the opportunity to gain experience in college-level coursework, expedite an advanced degree, and potentially get started in their career earlier.