The Black Box Theatre
MCC students explore the world of the theatre through courses on acting, character analysis, scene preparation, theatre design, scene construction, costuming, and lighting and you are able to enjoy fabulous entertainment as a result!
---
Meet the cast for the Spring 2023 Production of "Juliet and Romeo"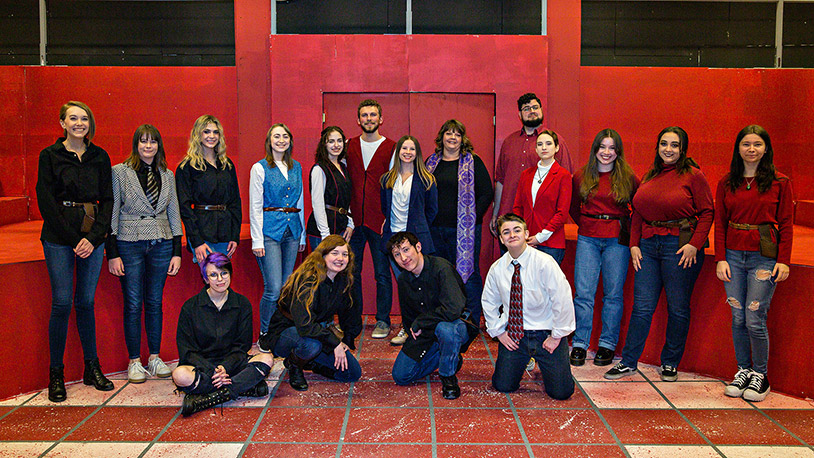 Top row left to right: Maggie Liston, Erin Liston, Trinity Anderson, Addie Keller, Isabella Aguilar, Nathan Bodecker, Emma Himley, Tracey Lanman, Greg Waldyn, Torie Mertens, Olivia Greenwald, Anastasia Correra, Angel Zuhlke
Bottom row left to right: Silas Shew, Monica Hauschild, Cody Klimek, Skye Schoen. Photos courtesy of Christy Sturm.
Auditions
Auditions will be held on Monday and Tuesday, August 21 and 22 from 6 – 8 p.m. in The Black Box Theatre at McHenry County College. Callbacks will be held on Thursday, August 24 from 6 - 10 p.m.
Please prepare a two-minute serious monologue. At callbacks, actors will read from the script.
Rehearsals will begin on Monday, August 28 and will be held every Monday, Wednesday, and Friday from 6-9:30 p.m.
There are roles for 12 actors of all genders.
CHARACTER DESCRIPTIONS:
Mary Shelley - Author of Frankenstein, 19 years old. She also plays THE CREATURE.
Percy Shelley - Mary Shelley's husband and a poet, 24 years old.
Mary Wollstonecraft - Feminist scholar and Mary Shelley's mother, 38 years old at the time of her death. She is also a ghost.
Victor Frankenstein - A scholar and a creator, 18 years old.
Henry Clerval - Victor Frankenstein's best friend, 18 years old.
Alphonse Frankenstein - Victor and William Frankenstein's father, 63 years old at the time of his death.
Monsieur Beaufort - Alphonse's friend and Caroline's father.
Caroline Frankenstein - Victor and William Frankenstein's mother, 35 years old at the time of her death.
Elizabeth Lavenza - Victor Frankenstein's adopted sister and fiancé, 18 years old.
Madame Delacey - The matriarch of the house The Creature observes. A musician and a kind soul.
Agatha Delacey - Devoted to her family and determined to drive The Creature from her home, a teenager.
William Frankenstein - Victor Frankenstein's younger brother, nearly 5 years old.
Justine Moritz - A servant at the Frankenstein home, 18 years old at the time of her death.
The Party -  A chorus of young men and women (but mostly women) who grace the Shelley household with uproarious laughter, ardor, and joy. Within the confines of Mary Shelley's novel, they fill every animal and human role not already spoken for.
Some roles will be doubled.
Performances
"Frankenstein" opens October 20, and runs October 21, 22, 28, 29, November 3, 4, 5, and a special performance on Halloween, Tuesday, October 31.
---
About "Frankenstein"
Frankenstein by Danielle Mohlman, directed by Jay Geller. Based on the novel Frankenstein by Mary Shelley, Mohlman has created a new and unique version of this tale of gothic horror. When Mary Shelley sits down to write Frankenstein, she's 18 years old with everything to prove. Her husband, the poet Percy Shelley, is too full of himself to notice his wife's phenomenal talent. She's grieving the death of her infant daughter, and in this era of gothic literature, no one wants to believe that the darkness on the page mirrors the storm in her own head. That is, until her mother shows up. The only problem is, Mary Wollstonecraft died when Shelley was just ten days old. This adaptation of Mary Shelley's classic novel explores monsters and the women who create them. It's a play that asks the age-old question: How far would you go to outrun your ghosts? (Mohlman).
Production Information for "Juliet and Romeo"
"Juliet and Romeo" is directed by Jay Geller with set design by Eric Luchen, lighting design by Maxwell Robey, costume design by Carol Foreman, fight choreography by Bill Daniel, dramaturgy by Ted Hazelgrove, scenic painting by Holly Adkins, and stage management by Alexis Rogganbuck.
---
Select a poster and check out our past productions!