The Black Box Theatre
MCC students explore the world of the theatre through courses on acting, character analysis, scene preparation, theatre design, scene construction, costuming, and lighting and you are able to enjoy fabulous entertainment as a result!
---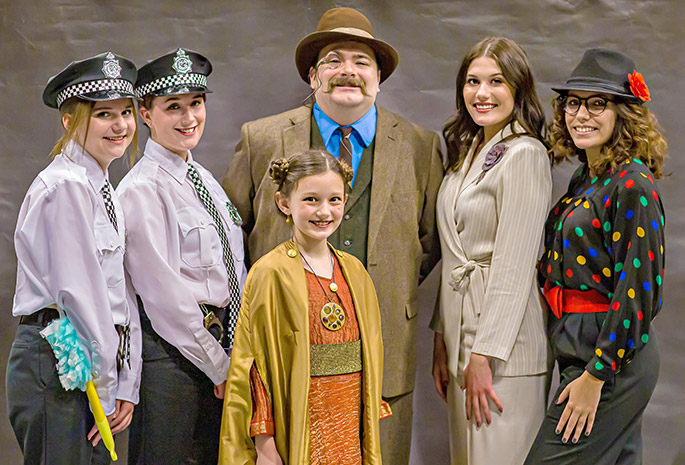 The cast of "What's All This Then," left to right - Amanda Haugk, Sydney Adkins, Jake Seelye,
Emma Ambrosia, Gianah Tomczak. In front - Ruth Graham. Photo by Christy Halda Sturm.
---
2020 Spring Play
What's All This Then
By Bill Daniel | Directed by Jay Geller
The play follows Constable Madge Barker as she investigates the mystery of missing house cats in the town of Croydon, South London. Over the course of this funny and outrageous tale, she is forced to deal with inept colleagues, the media, a ten-year-old mayor, and an extraordinary "cat burglar" in order to solve the case.
"What's All This, Then?" was written by Bill Daniel, a Chicago-based actor, playwright, and MCC alum. The play was directed by Jay Geller, with assistant director Kathryn A. McCord, set design by Chris Gray, lighting design by Maxwell Robey, lighting supervisor Rick Amundsen, costume design by Kathy Bruhnke, and stage manager Annelise Loser.
The cast included Emma Ambrosia, Ruth Graham, Gianah Tomczak, Sydney Adkins, Amanda Haugk, and Jake Seeyle.
---
Alum Spotlight - Bill Daniel
Beyond simply being a hilarious and entertaining comedy, What's All This Then? was actually written by an MCC alum-Bill Daniel, a Chicago-based actor and playwright.
More about MCC Alum, Bill Daniel
Select a poster and check out our past productions!