Black Box Theatre | Puffs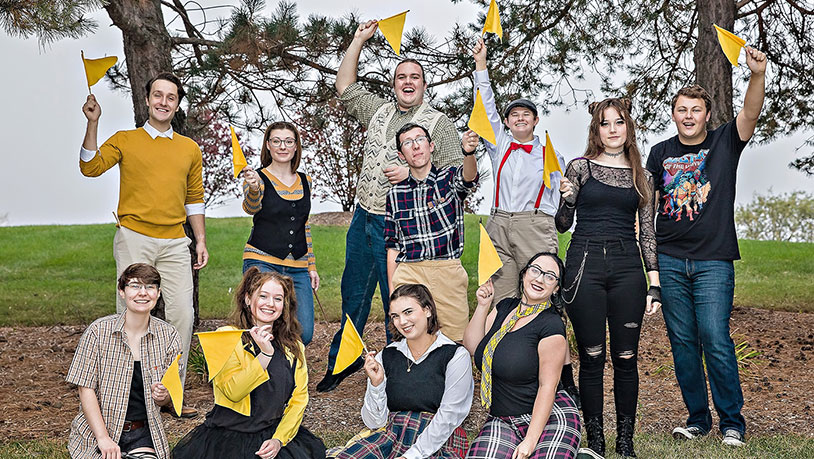 Top row left to right: Matthew Lennon Stewart, McKenna Montgomery, Dan Cosgray, Cody Klimek, Ashton Miller, Angelina Smith, Jackson Nielsen Bottom row left to right: Ember Thoreson, Lexi Stone, Fallon Knaak, Anastasia Correa
Puffs, or Seven Increasingly Eventful Years at a Certain School of Magic and Magic
by Matt Cox
The New York Times proclaims Puffs "A fast-paced romp through the 'Seven Increasingly Eventful Years at a Certain School of Magic and Magic.' For POTTERphiliacs who grew up alongside Potter and are eager to revisit that world, Puffs exudes a jovial, winking fondness for all things Harry!"
This clever and inventive play "never goes more than a minute without a laugh" (Nerdist) giving the audience a new look at a familiar adventure from the perspective of three potential heroes just trying to make it through a magic school that proves to be very dangerous for children. Alongside them are the Puffs, a group of well-meaning, loyal outsiders with a thing for badgers "who are so lovable and relatable, you'll leave the theater wishing they were in the stories all along" (Hollywood Life). Their "hilariously heartfelt" (Metro) and epic journey takes the classic story to new places and reimagines what a boy wizard hero can be. (Concord Theatricals).
Puffs is directed by Jay Geller, with set design by Eric Luchen, scenic artist Holly Adkins, lighting design by Maxwell Roby, lighting advisor Rick Amundsen, costume design by Kathleen Bruhnke, assistant director Kathryn McCord, stage manager Kyla Carey, and Spencer White.
Meet the Cast
The cast of Puffs includes Fallon Knaak, Cody Klimek, Angelina Smith, Matt Stewart, Ember Thoreson, Jackson Nielsen, Dan Cosgray, Ashton Miller, Alexis Stone, Annastasia Correra, and McKenna Montgomery.
---
Puffs Highlights